First off it's Friday. So be happy like these happy, jumping lambs.
There's a whole 3 minute video of this if you want more. They are just SO EXCITED and I really can't blame them. I know you've been waiting all week for WTF news. So here we go.
Boy Has Extra 232 Teeth Pulled
A boy in India just went through a seven hour surgery to remove 232 teeth. He first came into the doctor with swelling in his right jaw. He was diagnosed with a very rare condition where his gum formed extra teeth. Doctors describe this condition as similar to a benign tumor. 
Once they opened the tumor, they found all of the teeth inside. They described the teeth like little white pearls.
The doctors were thrilled to see such a rare and exciting case. I seriously doubt the boy was thrilled about this situation judging by his face in the picture above. However, he is doing fine now and has 28 teeth. He's totally gonna make BANK from the tooth fairy. She might even go bankrupt.
George Harrison Memorial Tree Killed By Beetles
Gotta love when irony strikes. A tree was planted in Los Angeles to honor the former Beatle member, George Harrison. In his later life, Harrison lived in LA and was said to be an avid gardener.
The little tree just reached 12 feet this year. However, a massive attack of ladybugs and bark beetles have taken over and killed the tree. There are plans to replant the tree but no date has been set yet.
Man Runs Himself Over in Road Rage
Florida is back in the news this week! Joseph Carl was busy drinking and driving and smashed into a woman's car. He then made the quick decision to get out of the car and yell at the woman. However, Carl failed to put his truck in park. After witnessing his drunken rage, the woman freaked out and drove away. Her car was the only thing holding Carl's car in place.  Sure enough, the truck rolled into Carl. So…does this count as a hit and run? Does Carl get to sue himself for running himself over?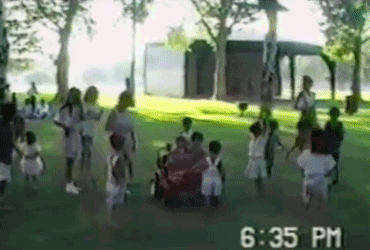 Doughnut Vandals Luring Police for Master Plan
Okay so that's not exactly what's happening, but I've got a prediction. A pastry vandal is causing mayhem in Portland, Oregon. Apparently, this person is smearing doughnuts on cars, throwing pastries and maple bars. This neighborhood vandal has attacked some people more than once. The police believe children are behind it and are choosing their victims at random. However, because there must be nothing else to do in Portland, police are spending extra time investigating and more patrol officers have been added. This is totally someone's plan to distract the police with pastries.
I bet a bank robbery is about to happen. I mean come on, police must be so excited and bewildered by this in order for them to add more people to the investigation.  Either that or they want free doughnuts.
Tags : buzzworthy, doughnuts, drunk driving, DUI, FloRida, Friday, George Harrison, Happy, India, Internet, irony, jumping, lambs, Los Angeles, Miscellaneous, Oregon, police, surgery, teeth, TGIF, the beatles, The Scene, tumor, vandalism, WTF, WTF News