After the usual 5 month hiatus following the Aussie Open, springtime in Paris has arrived. But a breeze of intrigue and uncertainty has befallen this French Open. The perennial favorites are still the favorites, but where they will finish remains a mystery. Let's examine these perennial particulars and make some fun predictions….
Roger Federer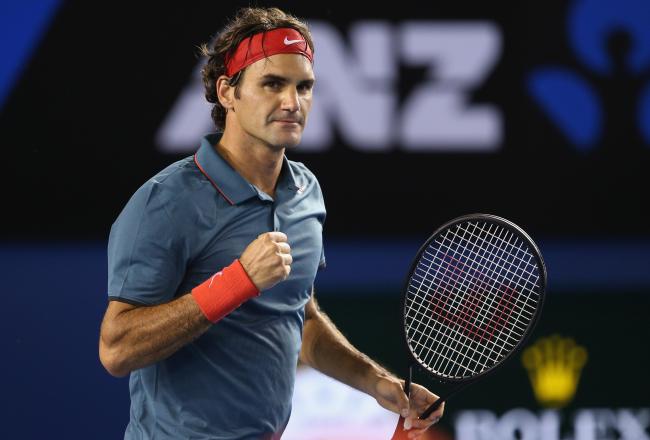 Whether the year is 2004, or 2014, Federer is always a favorite to win a tournament. If you type in 'longevity personified,' you will see his image next to Ron Paul and Jesus. And it is not just the amount of time that impresses tennis fans; it is the consistent high-level in which he performs. Granted, Fed's level of play has dipped a tad since entering his dreaded thirties, but he is still a contender. I say this even with the knowledge that he has not won a match since the birth of his twin boys, because in fairness it was the only match he's played. And he obviously needed a few weeks to catch up on sleep. Give the guy a break!
2014 has been better to Roger than 2013. He made the semifinals in Australia, has competed in two Masters 1000 finals, and he won the Dubai Duty Free Championships (his only title of the season, but a big one). The key to Federer's early success has been his aggression. He has re-adopted an attacking, offensive style of play that made him world number 1, back in the mid-2000s. New coach Stefan Edberg is a major reason for this revamp. For the first time in awhile, we are seeing Federer approach the net frequently. I like this. It is an advantageous strategy at his age, because it keeps the points short and it rushes his opponents into making mistakes.
Bottom line, Federer could win another major. We'd be remiss to doubt the man. And while he has only won a single career French Open title, his chances for winning in 2014 are as good as ever. Reasoning? His quarter of the draw is fairly weak, with his toughest opponents being John Isner and Tomas Berdych. But what's more, I believe we are seeing a changing of the guard in 2014. Meaning more young players are breaking onto the big stage. This is fancy speak for, 'we could see upsets.' Now, Federer could either be the victim of this, or the beneficiary. I just believe it is inevitable that with guys like Grigor Dimitrov and Milos Raonic (among many others) coming into their own, we could see many top players fall around him. And if I remember correctly, wasn't it an upset that cleared the way for Fed's victory in 2009?
Prediction: Semifinals
Stanislas Wawrinka
Not to take away from his already career-best season, but Stan has been up and down more times than a teeter-totter. Following his incredible Australian Open victory, Wawrinka quieted down for much of the late winter. But in April, he reemerged to win his first ever Masters 1000 title (Monte Carlo). What's next for Stan the Man? I have no idea. He is a boom or bust kind of guy. But when he booms, look out. He provides the most phenomenal shot-making skills this side of Roger Federer (and they're both Swiss, must be something in the bank accounts).
I'm not sure he will win Roland Garros, but I have faith in Stan to exceed our expectations. Last year he made the quarterfinals after winning an intense five-set match against Richard Gasquet. And the quarters are a legitimate goal again this year. But if his confidence level remains what it was in Australia, he might be on track to go even further in the tourney. I think Stan is hungry to prove that his first major title wasn't a fluke.
Playing on a clay court makes no difference to 'The Man.' While he's had his biggest success on hard courts, Wawrinka is surface indifferent (politically correct for, kicks peoples butts on every court). Most overlook this aspect of his game, but he's earned the qualification of late. I'd go as far as to say his all-around versatility is comparable to Djokovic and Nadal. Maybe a bold statement to make, but I think it's fair we mention Wawrinka in this company. His path to the final could take him through the likes of Richard Gasquet (epic match last year) and Andy Murray, culminating in a potential Aussie Open rematch with Nadal in the semifinals. I'm already excited.
Prediction: Finalist
Rafael Nadal
Eight. That's the number of times this man has won the French Open, and his 2013 run was legendary yet again. After coming back from an injury that kept him out for half of 2012, he stunned tennis fans by winning at Roland Garros yet again. This propelled him to a fantastic rest of the season, and earned him back the number one ranking.
But inconsistency has plagued Nadal in 2014. He's still playing great tennis by and large, But the dominant level we are used to seeing is not always there. The Australian Open final brought this question mark to center stage. After cruising through most of his draw leading up to the final, Nadal was dominated by Stanislas Wawrinka in four sets. Now before I get hate comments from the tennis community, I acknowledge the fact that Nadal was not at one hundred percent. But it doesn't matter. Because the fact was, Stan Wawrinka was in charge of this match long before any injury took place. And my theory is that Nadal's pulled back muscle was likely stress related. Yes, I'm suggesting he was nervous being down a set and a break. It's not a big deal, it just showed Nadal's mortality. In fact, I think it was less about Nadal not rising to the occasion, and more about Wawrinka playing phenomenal tennis.
There are more recent examples of Nadal's frailty, even during this clay court season. He has only won two out of five clay tournaments, which is unheard of in his dominant clay career. But it's not just that he's losing, it's the fact that he has lost twice in only the quarterfinal round (to lesser players), and he has yet to beat Djokovic (losing twice in finals). I don't want to overreact like many in the media, but I question whether Nadal will extend his French Open title run to nine. Mostly because he seems fragile of late, and he is now twenty seven. I could be way off base but I have a hunch we will see a changing of the guard at Roland Garros. I am not sure who will beat him, but I think it may rhyme with Smivitrov.
Prediction: Quarterfinals
Grigor Dimitrov
The future. The chosen one. Baby Federer. Sharapova's boyfriend. All are associated with Grigor Dimitrov, and all are accurate. This 23 year old is on his way to the top ten in men's tennis, and Roland Garros could be another step forward. He has shown a tremendous air of confidence in 2014. Could be that he's finally maturing as an adult, or could be that he's dating Maria Sharapova. Whatever the cause, it's evident in his results thus far.
He made the quarterfinals of the Australian Open; barely losing to Nadal (the match could have easily gone five sets), which was his career best result at a slam. Then in March, he won his first ATP 500 Series Title (big deal). What does this equate to? I expect more of the same from him at this French Open.
He has a tricky quarter, with potential opponents like David Ferrer, Tommy Haas, Kevin Anderson, and some unknown named Rafael Nadal. This will be another litmus test for the kid, and I think he may surprise us.
Call this my bold prediction of the tournament, but I see Grigor Dimitrov pulling a massive upset over Rafael Nadal in the quarterfinals. Most of the tennis community would label this blasphemous, but I'm sticking with my gut.
Prediction: Semifinals
Novak Djokovic
Is it possible for the number two ranked player in the world to be underrated? Having not won a major since last year's Australian Open, people have not been giving Novak Djokovic the attention he deserves. The fact remains that he has been the greatest model of consistency on the ATP tour over the past three years. He has won fourteen Masters 1000 events since 2011, which is better than anyone in the world (by far), and remains the only player to consistently beat Nadal on clay. To be honest, his only obstacle from winning at Roland Garros last year was a poor officiating decision on an errant net touch.
At a time when all of the top players have question marks, Djokovic seems to have the fewest. Earlier this month, a wrist injury kept him out of Madrid. But this past week, he put on a marvelous show in route to beating Nadal in Rome. I think it's safe to say the wrist isn't bothering him anymore. The only thing that may bother him in Paris is his draw.
Djokovic's quarter is tough. A potential quarterfinal matchup against the new world number eight, Milos Raonic, would be the opposite of a walk in the park. And the other top option would be Kei Nishikori, who has recently cracked the top ten as well. But that is a long way off, because Djoko will have to go through Marin Cilic in the third round (who is having a fantastic start), and either Jerzy Janowicz or Jo-Wilfried Tsonga in the round of sixteen. Oh, and he could also face Mr. Federer in the semifinals. No big.
If Novak goes on to win his first French Open title, no one can say he didn't earn it. But Djokovic has earned my respect, and I expect him to persevere through this tournament. No doubt he will continue to cement his distinction as 'Mr. Consistent.'
Prediction: Champion
Tags : 2014, ATP World Tour, Australian Open, clay, consistency, French Open, grand slam, Grigor Dimitrov, Kei Nishikori, Masters 1000, Milos Raonic, Novak Djokovic, Rafael Nadal, records, Roger Federer, Roland Garros, serve and volley, sports, Sports Takes, Stanislas Wawrinka, Stefan Edberg, tennis, titles, Tomas Berdych, tournament, upsets