For anyone who knows baseball, imagine someone telling you in April that you would be looking at this scenario come July.
The Oakland Athletics will have the best record in baseball.
The Los Angeles Angels will have the second best record in the American League, good enough for a wild card spot in their division.
The Seattle Mariners will hold the number two wild card spot.
And the Texas Rangers? They are playing for next season…..
Back in April, you would have scoffed at this. But now that we've surpassed the halfway mark of the baseball calendar, this scenario is transitioning from a farfetched fallacy, to a realistic possibility.
A's, Angels, and Mariners
Their approaches to the game are as different as night and day. Big money versus little money versus a little of both. There are a few superstars, one 22 year old hall of famer, and a ton of underrated yet skilled run producers that you've probably never heard of, but should.
One team plays in a beautiful, newish stadium in Seattle. The kind of facility that every baseball team has since copied almost identically. While another team plays right over the fence from Disneyland. The third team doesn't even play in a stadium, but in the middle of a decaying trash heap simply dubbed 'The Coliseum.'
In Oakland, you have moneyball. In Anaheim, you have spend-a-lot-of moneyball. And in Seattle, you have give-a-lot-of-money-to-1-man ball. But all three ways of doing business have put these teams into the winning business.
As mentioned above, all 3 of these teams could qualify for a playoff spot. I realize October seems like a billion miles away, but it's less than 3 months. And 3 months ago, we never thought this was even a remote possibility.
With the All-Star break looming before us, let's appreciate the following:
Mike Trout Etching A Legacy
With the 3rd highest OPS is baseball (that's on base+slugging percentage for you noobs), Trout is right in the mix for AL MVP. At times, you get the sense he is carrying the Angels on his back. He must have Christopher Lloyd on his side. He is definitely young enough to still believe in angels.
Moneyball At Work I think by now, we can put the argument to bed that moneyball is somehow a failed lab experiment. The proof is in the pudding. The Oakland A's are well on their way for a 3rd consecutive division title, with one of the lowest payrolls in baseball. And it aint a fluke.
Josh Donaldson has turned into one of the finest all around players in the sport. Derrick Norris and John Jaso are utilized to perfection as they take turns starting at catcher. Meanwhile, Brandon Moss and Yoenis Cespedes provide much needed punch in the middle of that lineup. And what do all these fine gentlemen have in common? Say it with me Brad Pitt…. "They get on base!" And where do runs come from? Base runners. Such a shame, many professional baseball teams have failed to grasp this bit of common sense.
Run Differential=Wins
All 3 of these contenders squash the rest of MLB in the run differential category. It is absolutely staggering. The Mariners, with a +57 mark, have a run differential better than any division leader right now. But they are only in 3rd place! In their own division! This is because the Angels have a +71, and the A's have a stunning +147!
People, if you want to see some swinging bats then come out west. Oh, and the pitching isn't too bad either. Here is the resumé of each team's ace:
Garrett Richards
10-2 record, 2.71 ERA
Felix Hernandez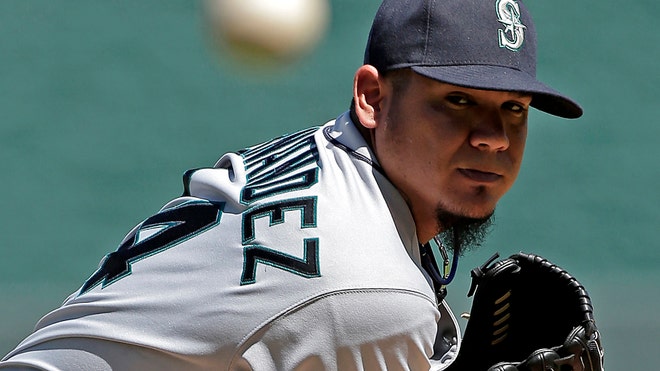 10-2 record, 2.21 ERA
Scott Kazmir 11-3 record, 2.38 ERA
Honorable Mention:
Jeff Samardzija  (just traded to Oakland)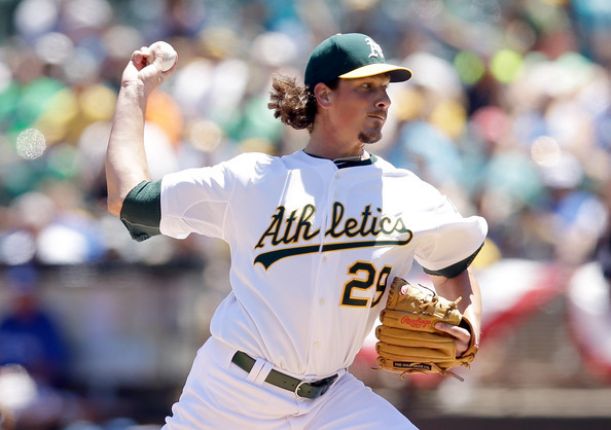 1-0 record, 1.29 ERA
The story of the 2014 season begins and ends with the AL West. And more specifically, these 3 teams. Let's adhere to their first half excellence, and brace ourselves for the excitement to come.
Tags : 2014, American League, Angels, Athletics, Baseball, Mariners, MLB, moneyball, pitching, runs, sports, Sports Takes, teams