Pigskin season is upon us. Time for cooler weather, beer, and…. more beer.
With Week 1 firmly in the books, let's review the 5 takeaways.
#5. Seattle Is Still Seattle
While most fans around the league are unsure about their team's future, Seahawks fans are reclining in their La-Z-Boys and laughing at the rest of them. The men from the Northwest (I think that's in America) came out of the gates sprinting. They made Green Bay look like a bunch of cheese packers.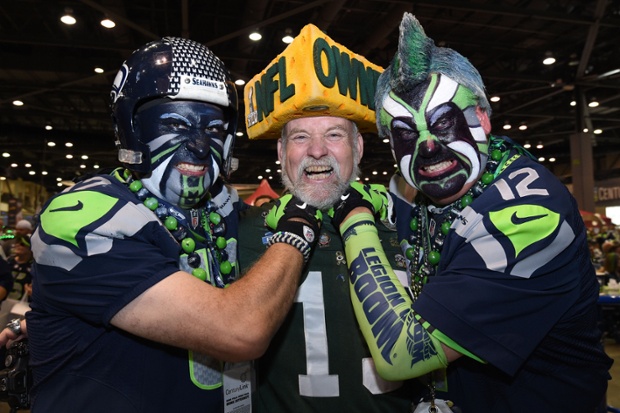 Their defense stunted Aaron Rodgers for only 189 yards passing and an INT. Meanwhile, Marshawn Lynch tore up the defense for 100+ yards rushing and 2 TDs. I wonder if teams will start forfeiting games at Seattle? Because that's the only way to avoid the on field embarrassment.
#4. NFL Is The League Of Parity
Outside of Seattle, the league is rampant with parity. Week 1 saw 8 games decided by a touchdown or fewer points. Ostensibly, we could see a tight race in every division. Much like last season where the standings were riddled with 8-8 teams fighting for wild card spots and even division titles.
Gone are the dynasties. Any team can win in a given week. Congratulations NFL, you have us enthralled.
#3. The AFC East Will Entertain
New England's in last place. Just let that sink in for a second. Now look at everyone else in their division. Miami, Buffalo, New York… they all won. And the Dolphins won impressively over New England.


Yes, it's only Week 1 but aren't the Patriots normally in 1st place already? Things are shaping up for an interesting season back east to say the least.
#2. There Is Always A Game On
Ever since Thursday Night Football came about, it seems as though football never stops. Thank you Roger Goodell! You did good… at least in this case.
When Monday Night Football ends, Thursday is right around the corner. And it seems to arrive more quickly every week. Hey, I'm not complaining. Let's have football on every night of the week like they do in college. You can throw the Jaguars on Tuesday nights and the Rams on Wednesdays. Then maybe someone would watch those teams.
#1. Fall Is On The Horizon
The best part about Week 1? It reminds us that one of the greatest times of year has arrived. I know it's still hot, but I swear autumn is coming. This Indian summer can't last much longer, right?
Tags : 2014, AFC East, autumn, fall, featured, football, NFL, season, Seattle Seahawks, sports, Sports Takes, trends, Week 1