The season has legitimately arrived, now with 2 full weeks in the books. There were many highs and lows both on and off the field, but here are the top 5 takeaways.
5. Controversy
Although I care more about what happens on the field, I'd be remiss not to acknowledge what is happening behind closed doors. Especially when it involves domestic abuse.
Despite some amazing games over the weekend, all anyone is talking about is Ray Rice and Adrian Peterson. Peterson is the latest in dead beat dad horror stories, involving the abuse of his son(s). But what a lot of people aren't acknowledging is the fact that he has nearly a dozen children with a number of different women. Is that by itself supposed to be okay?
Forget the abuse for a second. Here's my question…. As a society, how did we get to the point where it is not disturbing for a man to father a dozen illegitimate kids? It is almost deemed 'normal' nowadays. At least when it comes to professional athletes, people tend to turn a blind eye.
Regardless, there is nothing productive to say about either of these men. So I'll leave it at that.
4. Fasten Your Seatbelts For The AFC East
I don't think there is a more exciting division in football than the AFC East through 2 weeks.
New England is New England. They will obviously be a contender for a Super Bowl. But what has impressed me are the Dolphins, Bills, and Jets.
The Bills have looked very strong through 2 weeks, as they won a tough road game in Chicago and then beat Miami in the Buffalo opener on Sunday. Mind you, the Dolphins had looked fantastic against New England in Week 1.
And then you have the Jets, who should ostensibly be 2-0 right now….
3. Too Much Coaching
It's more obvious in a sport like baseball, where the manager will sometimes call to the bullpen 2-3 times in an inning. But Sunday in Green Bay, the concept of over-managing was displayed front and center on national television.
On 4th down, Gino Smith surprised everyone in the stadium, including the Packers, by throwing a bomb to Jeremy Kerley in the endzone for what would have been the game tying touchdown. Sadly, the play never happened. This is because Offensive Coordinator Marty Mornhinweg had called a timeout before the ball was snapped.
It was awkward to say the least, as Rex Ryan scoured the sideline asking for who called it. But Marty did the right thing and took full responsibility for the timeout.
So what happened next? Well, the Jets lost. And now all of New York wants Marty's head. But look at it this way…. At least he cares about his job enough to try TOO hard. Does that make you feel any better Jets fans? Probably not.
2. Comeback Kids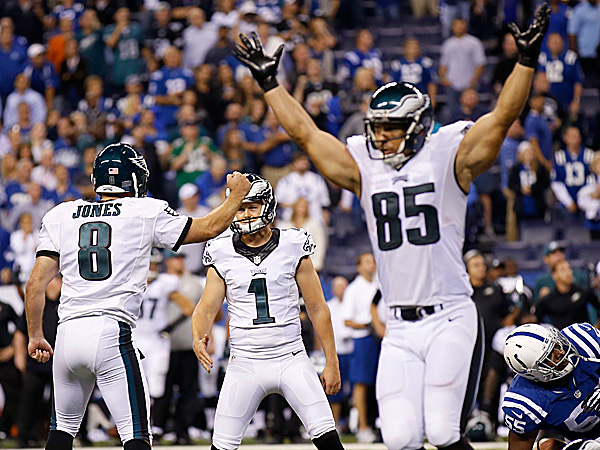 The NFC East is the opposite of the AFC East. But amongst all the mediocre teams, the Philadelphia Eagles shine bright.
Their past 2 games we've seen them overcome some pretty hefty deficits to win. Nick Foles is a legitimate MVP candidate, and their defense is playing just well enough to let their potent offense score points.
1. SD Tames The Beast Mode On Sunday, San Diego turned back the clock to the days of their high powered offense. No, not all the way back to Air Coryell. But at least back 5 or 6 years to the prime of Antonio Gates. Gates looked his younger self, as he caught 3 touchdown passes from Philip Rivers (who also looked great).
The game was won because of San Diego's clear strategy of keeping the ball. Russell Wilson and Marshawn Lynch are going to score, and the Chargers knew that. So they simply held onto the ball for as long as possible to keep Seattle's defense on the field in the sweltering heat. And most importantly, they kept Wilson and the offense standing by. A game plan many teams attempt, but few can execute.
The Chargers held onto the ball for more than 42 minutes, in comparison to the Seahawks' 17:45. That's one of the biggest time of possession disparities in NFL history! San Diego set a precedent, but it's easier said than done. Now we will see whether other teams did their homework, starting with Denver. The Broncos travel to Seattle this Sunday.
Tags : 2014, Adrian Peterson, Bills, Broncos, Chargers, Dolphins, Jets, NFL, Packers, Patriots, ray rice, Seahawks, sports, Sports Takes, Week 2