New Mayor of Minnesota Town is Barking Orders
Literally though. The town of Cormorant elected a 7 year old dog named Duke as their mayor. Voters paid one dollar to cast their votes and apparently Duke won by a landside! The runner up, a human, did not have even half as many votes. Not sure what sort of rules he'll put into place. But his salary consists of a lifetime supply of food. Wish that was the price for human mayors. I'd totally run if that were the case.
Teenager Lives Childhood Dream for 2 Days
So maybe it was just me, but I always dreamed of what it would be like to live in a grocery store. Or better yet, Costco. It would be SO COOL! You could run around all day eating whatever snacks you'd like. Well this teen decided to hideout in Walmart for two whole days. He decided to runaway from home and went undetected in a 24-hour Walmart in Texas. My first comment: they have a 24 hour Walmart? WHY. That seems so unnecessary. Considering the eclectic shoppers during the day, I can only imagine what sort of creatures wander in there after midnight.
Walmart apparently has to actively search for missing children (this is a constant problem??) and did not know this teen was missing and potentially hiding in their store. He was finally found emerging out of boxes with a stockpile of food and drinks. Bummer kid, good luck next time, maybe try Costco!
Korea Creates Finger Condoms and They Are Actually Useful
Well Korea created something weird yet actually useful. Japan, you should take note. The "Finger Nap" is quickly becoming a nationwide hit. This plastic, sanitary, condom-like glove for fingers is used for eating greasy, messy food. I think it's a great product. It's pretty annoying when I have to eat food with my hands and then my fingers are all sticky and gross. Or waning to eat with my hands when I haven't found anywhere to wash them. The Finger Nap is the solution!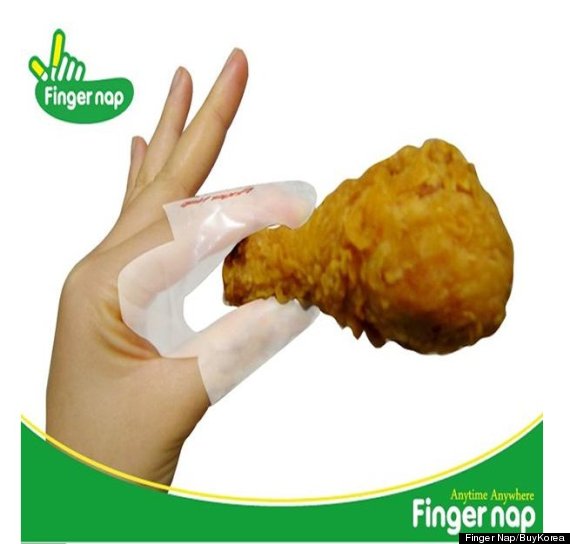 These items are becoming so popular in Korea you can find them in dispensers at many fast food restaurants. Not really sure if America will catch on but I would totally use them. Although, the ad for Finger Nap states they are "great help to children and the elderly." So I'm not sure if I'm in the right age group for these but I'll break some rules if I have to.
Tags : buzzworthy, dog, Finger Nap, Korea, mayor, Minnesota, Miscellaneous, People of Walmart, Texas, The Scene, WalMart, WTF, WTF News