Baby falls 3 stories; saved by mattress
Earlier this week in Burbank, CA a child fell 3 stories but was luckily saved by a stranger and his box spring mattress. Konrad Lightner spotted a toddler hanging from a third-story window and called the police. Miraculously, Lightner happened to have a mattress with him and placed it next to the apartment complex.
He waited for the child to fall, caught him, and both collapsed onto the mattress. The toddler is doing fine with now, with apparent signs of trauma.
Lightner explained, "I'm not a hero. I just walked by and just tried to help. Just something happened and I was there." Well I disagree. You're a hero for miraculously carrying around a mattress with you looking. Hooray for saving babies!
Temporary shut down of 'baby hatches' in China
It seems like babies were big in the news this week. China is home to many controversial facilties called "baby hatches." Apparently, the city of Guangzhou has a huge issue with mothers not wanting their babies. To avoid babies being abandoned on the streets, the city created safe places for mothers to leave their unwanted children, called baby hatches. These rooms are equipped with incubators, a cradle, and an alarm system to allow mothers to drop off babies anonymously.
These facilities just opened in January and have already seen 262 babies. All of the babies suffer from disabilities or disorders such as cerebral palsy, Down's Syndrome, and heart disease. According to the hatch operators, these rooms make a huge impact on saving the lives of abandoned children. On average, the facility receives 5 babies a day. 5 BABIES A DAY. CHINA WHAT ARE YOU DOING?! Due to these staggering numbers, China is unable to keep up with the unwanted babies. Hospitals are overflowing and there are not enough beds to cater to these children. The facilities have been shut down temporarily as they cannot keep up with demands. Xu Jiu, the director of the hatches, is unable to determine a reopening date and says the facility is going to focus on the current babies in their care. So, um, China, I thought you already had a baby rule in place? This is seriously depressing. You can't just ditch a baby because you don't feel like dealing with it anymore. That's not how parenthood works, COME ON.
Selfies are causing head lice among teens
Yes, you read that correctly. Teenagers are so obsessed with selfies today that they can't wait to smoosh together and recreate the famous Ellen Oscar Selfie. Well sorry guys, but your selfies are leading to an increase of infestations of head lice. Marcy McQuillan, a lice-treatment expert who runs two centers in California, states she has seen a huge increase of cases in young people due to all of the head-butting in selfies. As we all know, lice cannot jump from head to head. Therefore, when you touch heads with your buddy, the lice catch on to your hair and have a lice party!
McQuillan says, "Every teen I've treated, I ask about selfies, and they admit that they are taking them everyday." However, there is some debate to the issue over the amount of time it takes during contact for the lice to transfer…but it hasn't been ruled out completely. Lice-treatment experts are advising people to keep their heads separated when taking these pictures. So make sure to remember this the next time your friend wants to touch heads. Lice are real!
Sellotape Selfies on the rise
Good ol' Facebook has a new trend. The page, Sellotape Selfie Nomination is on the rise. The new, cool thing to do is wrap your head with clear packing tape and take a picture. Think Jim Carrey from Yes Man.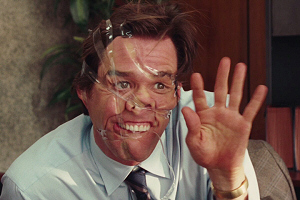 I don't know what provokes people to start these trends and WHY the world thinks it's a good idea. This can't be a good thing for your health/skin complexion. I don't think this is something to put on your resume, either. You just look stupid. So please stop.
Tags : Babies, baby, baby hatch, buzzworthy, California, China, Facebook, head lice, Internet, lice, mattress, Selfie, Selfies, Sellotape Selfie, The Scene, WTF, WTF News