Handicapped Dogs Play Fetch
You might not think a group of dogs playing fetch is all that exciting. But what about a group of dogs in wheelchairs playing fetch? This is probably the cutest thing I've seen all week. For only having two legs, these dogs sure can run…or roll? However I do think it's very rude of the dogs with four legs to claim the stick. Then they go romping around the tall grass where the wheeled dogs can't go. What a bunch of bullies.

Police Thwarted By Goat on Roof
Police in Oregon were out on their usual rounds until they came across a goat stranded on a roof. Yes, a goat on a roof. Poilce stopped to assist but were warned the goat had anger issues. According to onlookers the goat will charge and "only respects one man".
The goat was eventually rescued by the aforementioned "man."  Must have been a huge embarrassment for the police. To have a goat not respect you…what a downer.
Toaster Selfies Are Here
I don't quite understand the obsession with selfies. Everyone seems to be doing it. Even Ellen makes it look cool. But, for those of you who LOVE taking selfies, you'll really enjoy this new product on the market. The toaster selfie is here!
This customisable product allows you to burn a picture of yourself into your toast slice. I KNOW, RIGHT? AMAZING. Just think, you have your friends over for brunch, offer toast and BAM your face is on everyone's plate. Fan-tas-tic.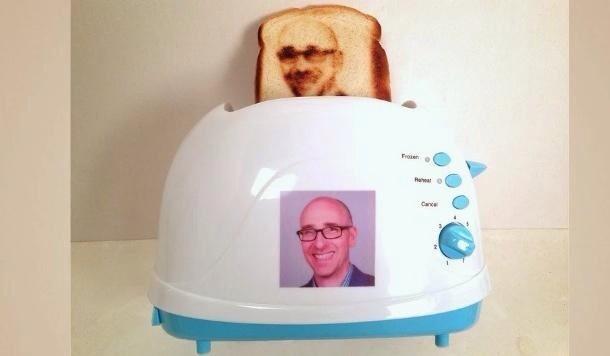 Steven Spielberg Accused of Killing Dinosaur
So this kinda blew up last week. If you missed it, you"ll be so happy you're catching it now. Once again, the human population proves just how stupid they are. I know this is last week's news but I can't resist talking about it again. Not sure if you all are familiar with the controversy with the cheerleader Kendall Jones are her insane hunting hobbies? Read more here. Basically everyone hates Kendall.
So. Jay Branscomb thought it would be pretty funny to mock the entire issue with a photo of Steven Spielberg next to his Jurassic Park triceratops. He posted the photo on Facebook with the caption, "Disgraceful photo of recreational hunter happily posing next to a Triceratops he just slaughtered. Please share so the world can name and shame this despicable man."
Pretty funny right? Good joke. Wrong. The rest of the world took this a little differently. Everyone FREAKED OUT. They accused Spielberg of being inhumane and killing a harmless animal and being a total moron. Oh boy.
People blamed everyone from Bush to Obama to the terrorists of 9/11.  Oh, the more intellectual folks blamed the photo on photoshop. America, take a chill pill and watch Jurassic Park. So in response, Branscomb thought he could clear up the issue with more sarcasm by posting this photo:
For the most of us, we know this is a photo from Jaws. Well, the rest of the world sees this differently.
Oh my. World, please expand on your multimedia knowledge. Kthanks.
Tags : buzzworthy, dinosaurs, dogs, Germany, goat, handicapped dog, kendall jones, Miscellaneous, Oregon, police, Selfie, Steven Spielberg, The Scene, toaster selfies, triceratops, WTF, WTF News