The tennis clay court season is in full swing (silly puns), and the tennis tour has landed in Madrid this week for the Madrid Open. Sure, some say it's just another tournament. But those of us who follow the sport know better. The Madrid Open is a revolutionary event where things are done a bit differently than your average tourney, thanks in part to this man:
Ion Tiriac
Ion Tiriac is financially wealthy, but he also has a wealth of ideas when it comes to shaking things up at the Madrid Open. First and foremost…..
The Ballgirls
Who needs a bunch of annoying 12 year olds running around aimlessly? Not Tiriac. In 2004, he decided to spruce things up by having beautiful women handle all things tennis balls. They are recruited from a pool of aspiring actresses and models so only the best eye candy make the cut. Here are a few looks at the talent. And don't worry, they are all 18. At least I think: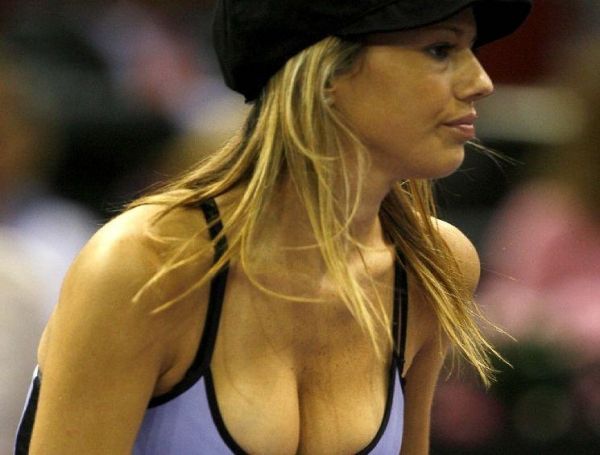 But let's not be superficial, I'm sure they are mostly selected by their on-court talents. Totally.
The Surface
Blue Clay wasn't his most popular move but it was definitely a fun idea. In 2012, Tiriac decided to add this other unique touch to this already unique tournament, much to the chagrin of the top players. Nadal was famously quoted as saying, "what's next, blue grass?" What to go Rafa. Make fun of this great tournament as well as a classically American genre of music in the same off the cuff comment. I can venture a guess that had he won the title that year, he would be demanding every surface turn to blue. But that's neither here nor there. Among the many big clay court tournaments this time of the year, Madrid offers a sense of flair we don't usually see in the traditionally stuffy sport of tennis (I acknowledge this truth, as a huge fan and player). But stuffier days are ahead, aka Wimbledon. So let's appreciate all that this Spanish tourney has to offer:
The Beauty (not talking about the ballgirls again, sorry)
For all the publicity stunting Tiriac is known for, he really has transformed the Madrid tournament into a beautiful stop on the pro tour. The Caja Magica (Magic Box) is a state of the art, center court. It's a fusion of nature and engineering, as you see metal walled box seats next to flowers which line the court. And like everything built post 2000, the stadium has a retractable roof.
Tiriac's ploys may be unusual for tennis, but gimmicks have always had a place in pro sports. Baseball has perhaps the most well-known examples:
Charlie Finley
Finley was the original creator of gimmicks. As owner of the Kansas City/Oakland A's, he's the guy who moved the right field fence in, who brought a mule in to bother reporters after games, and who assigned his players silly nicknames. But he did some useful things too, like advocate for World Series games to be played at night time to boost attendance, and bring The Beatles to Kansas City (by offering them the highest wage any artist had received at that time).
Bill Veeck
Owner of multiple big league teams, Veeck was most famous for his innovations while owning the White Sox. Among the groundbreaking installments were fireworks for home runs, electronic scoreboards, and surnames on the back of his players' jerseys. Ironically, these were merely looked at as silly gimmicks at the time, before other owners realized the marketing implications in play here. And of course, all of these novel ideas are currently in use in all 30 major league parks.
In the case of Tiriac, I hope what he's done in Madrid will be adopted by other tournament organizers. I hope to one day live in a world where Kate Upton is volunteering her time on the grass at Wimbledon. Hey, it could happen. In my dreams at least.
Tags : 2014, ATP World Tour, babes, ballgirls, Bill Veeck, blue, Charlie Finley, clay, Ion Tiriac, Madrid, Spain, sports, Sports Takes, tennis, women